Springfield — Many big changes came to Lee District and Fairfax County this year, and many of those changes benefit our ongoing revitalization efforts and improve the way we deliver services to residents. Thanks in no small part to our community's hard work, it was overall a strong year for Lee District and Fairfax County as a whole.
My proudest legislative accomplishment was the passage of the One Fairfax Resolution; an affirmation by the Board of Supervisors to improve equity of access to opportunity for all residents regardless of their background. In my mind, this was one of the most important resolutions that has come across my desk in my term as Supervisor, and there has never been a more important time to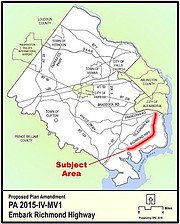 commit to reducing inequalities in our community.
THE RESOLUTION first began to develop during one of my meetings with the Successful Children and Youth Policy Team, and grew from there to be an unwavering commitment to a better future for all residents. After all, much of Fairfax's economic success has been because we are inclusive and we need to enhance that further.
Even in the wake of the FBI cancelling its headquarters relocation, I was confident that we would be able to attract other federal agencies to Springfield. That paid off when I learned that the Transportation Security Administration had chosen to build their new headquarters near the GSA warehouse, a testament to our hard work. In just the past few years, Springfield has become a major economic powerhouse in the region with the Springfield Town Center becoming the third most valuable property in Fairfax.
I also was able to work together with Mount Vernon Supervisor Dan Storck to get transportation projects in Lee District and along the Route One Corridor put at the top of the priority funding request the Board of Supervisors recently approved. In all, projects in Lee District made up 43.8 percent of the total projects listed on the countywide funding request. This request is a major step forward in that direction. We were also able to get many Lee District roads on the VDOT paving plan, ensuring that residents would be able to travel on well-maintained and safe roads.
We also had big developments in our parks this year. Franconia Park, a stone's throw from my office, is currently having its master plan reevaluated, a major step in adding new facilities and features to one of our favorite neighborhood parks. We also brought back the carousel to Lee District Park, a childhood favorite of mine and a staple of summers in Lee District.
IN PUBLIC SAFETY NEWS, police in the Mount Vernon Station will begin wearing body-worn cameras for a pilot program in the next few months, after the Police Ad Hoc Commission made a recommendation to the Board of Supervisors. A research team will evaluate the impact of the cameras and report back after the three month pilot program, after which we will make a decision on whether to keep the cameras as a permanent program. Many agencies and organizations were involved in this exciting project, including our own police department and sheriff's office, the Fairfax NAACP, the Independent Auditor's Office, and many community organizations.
Even more is on the horizon for Lee District and its residents. As we move into 2018, I am already hard at work looking for opportunities to continue to improve our quality of life and offer even more great services. It was a pleasure serving as your District Supervisor this year.