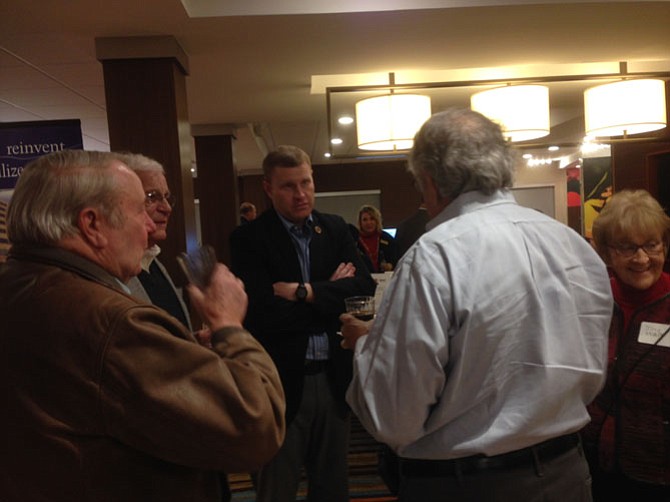 Mount Vernon — Vicky McLeod of the Southeast Fairfax Development Corporation (SFDC), learned a lot from Mary Thonen, a friend of hers for years and a mentor of McLeod's with a sense of community. Thonen's community beautification methods became a focal point for the area and became the namesake of an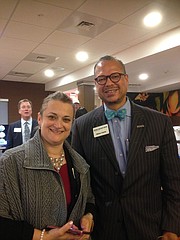 annual award given out by SFDC to local establishments for their contributions to Richmond Highway improvements.
"She was just an active worker, when she set her mind on something, she did it," said McLeod.
McLeod was among the attendees at the 2017 Mary Thonen Highway Beautification Awards Ceremony on Wednesday, Dec. 6, when the corporation named this year's recipients of the Mary Thonen award. "She had her hands in everything," McLeod added.
After looking at the many applications for this year's award and their contribution to improving the challenging Richmond Highway corridor, SFDC awarded first prize to the Cherry Arms Apartments, second to the Mount Vernon Square Apartments and third to Mount Vernon Plaza.
At Cherry Arms, "we always try to keep our curb appeal up," said Jean Austin,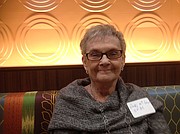 the assistant property manager. They concentrated on sprucing up the trees out front, as well as stuck to the schedule with regular maintenance. "That's how we continue to look as great as we do," Austin said.
Mount Vernon District Supervisor Dan Storck (D), a driving force behind the "Embark" improvement project, looks at the appearance of properties as a key part of revitalization. "It is the difference between people feeling like they live on a healthy, modern main street, or an old, rundown highway," he said.
Picking a Mary Thonen award winner is "a real positive process," said Rachel Carter, a former board member and currently a Realtor at Coldwell Banker Realty who was at the event. "It's all about landscaping and beautification, it's important for visibility," said Carter.
The awards ceremony was also an opportunity for Walter Clarke, the newly appointed Mount Vernon District Representative on the Fairfax County Planning Commission, to look at the beautification stems from that perspective, "We want to continue that legacy," Clarke said. He will officially move into the position on April 1, but he's had years of experience in the Richmond Highway corridor. He's had a couple of years on the Embark Richmond Highway advisory committee he co-chaired with Dick Knapp. He also works as the vice president, Business Banking, at Burke and Herbert Bank as his full time job. Embark "looks at what the possibilities can be," Clarke said.
In Storck's eyes, the Embark plan and the Mary Thonen award complement each other. "As Embark and new development come to the corridor there will
Award Winners
First Place: Cherry Arms Apartments, of Hybla Valley
Second Place: Mount Vernon Square Apartments, of Hybla Valley
Third Place: Mount Vernon Plaza Shopping Center (Federal Realty Investment Trust), of Hybla Valley
Other finalists:
City Side Apartments, of Huntington/North Gateway

Kentucky Fried Chicken, of Hybla Valley

Montebello, of Huntington/North Gateway

Red Roof Inn, of Huntington/North Gateway

The Beacon at Groveton, of Beacon Hill

The Mehr Brothers Sunoco, of South County

Washington Square Apartments, of South County
be an emphasis on curbside beautification and environmentally pleasing features," Storck said.
Other elected officials at the presentation included Supervisor Jeff McKay (D-Lee), Del. Paul Krizek (D-44), and James Migliaccio, Lee District Planning Commissioner.
Storck hopes the award will become something property owners will strive for to improve the overall district. "The Mary Thonen award is a wonderful way to recognize and encourage our property owners to put forward their best presence along our main street," he said.