Vienna — Majors fans stood and applauded, and head coach Courtney Coffer clapped his hands along the sideline as the Mount Vernon girls' basketball team dribbled out the remaining seconds in Tuesday's contest against Oakton.
When the final buzzer sounded, the Majors had ended the state's longest AAA winning streak and confirmed their standing as one of the top teams in the Northern Region by beating a team that had haunted them for years.
Mount Vernon defeated Oakton, 68-52, on Dec. 4 at Oakton High School, snapping the Cougars' 34-game winning streak. Oakton went 31-0 en route to a state championship last season and won its first three games of this season before losing to the Majors. According to the Oakton athletics Web site, the Cougars hadn't lost at home since falling to Robinson, 46-42, on Jan. 15, 2010.
Along with snapping the Cougars' streak, the Majors achieved some personal payback. Oakton ended Mount Vernon's season three out of the last four years. During the 2008-09 campaign, Coffer's first as an assistant with the Majors, Oakton beat Mount Vernon, 47-39, in the region semifinals. In 2009-10, when the current Mount Vernon seniors were freshmen, the Majors lost to the Cougars, 44-38, in the region quarterfinals. In 2010-11, Coffer's first season as head coach, the two teams did not face one another. Last season, Oakton beat Mount Vernon by 30 points during the regular season before knocking the Majors out of the region tournament with a 59-35 victory in the semifinals.
"It's a huge monkey off our backs," Coffer said after Tuesday's victory. "I've been here since '08 and they ended our season in '08-'09, they ended our season in '09-'10, they ended our season last year, so for us to just finally get over that hurdle --- and especially to come here and do it … it just feels great."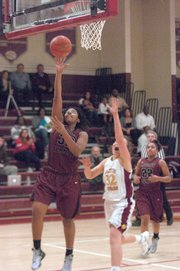 The victory didn't come easily.
Mount Vernon had several players get in early foul trouble, including Hofstra-bound guard Kelly Loftus, who was whistled for her second foul with 3:55 remaining in the first quarter and went to the bench for a significant amount of time. Junior forward Samantha Porter also had two fouls in the first quarter and guard Tiffany Webster, who is committed to Barton College, was whistled for her second foul in the second quarter.
Despite foul trouble, the Majors managed to succeed thanks in large part to the performances of junior guard Chanel Shannon and freshman wing-player Erin Irving. Shannon knocked down five 3-pointers and finished with a team-high 26 points. Her second 3-pointer gave Mount Vernon an 8-6 advantage midway through the first quarter. The Majors led for the remainder of the contest.
"I've been on Chanel every day since last year, telling her she has so much potential and I've been trying to pull it out of her on a daily basis," Coffer said. "It just feels great to see a kid come out and play the best game she's ever played since she's been in high school in a game of this magnitude, and now her confidence is going to skyrocket."
Mount Vernon led by as many as 17 points in the third quarter, but Oakton battled back and cut the Majors' lead to five early in the fourth, when a pair of free throws by Cougars guard Karlie Cronin made the score 49-44 with 6:17 remaining. From that point, Shannon and Irving scored Mount Vernon's next 15 points to help the Majors secure the victory.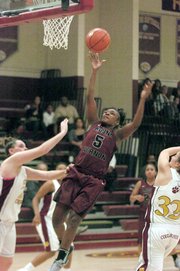 "Last year, they ended our season," Shannon said. "They were on our hit list and we got the job done."
Irving finished with 12 points, including eight in the fourth quarter, and grabbed seven rebounds.
"Erin Irving, I can't say enough about the kid," Coffer said. "The kid, in my [opinion], she's a Division I player now and she's 14."
One of Irving's assignments was to defend against Oakton's 6-foot-1 center Elizabeth Manner, who finished with 30 points and 17 rebounds. Irving stands 5 feet 9.
"It was actually a lot of pressure," Irving said. "I was more nervous than anything, but I came off the bench and had to score for the team."
Loftus finished with 12 points after missing much of the first half due to foul trouble.
"I just had to keep my composure," she said. "Sitting on the bench was hard because I really wanted to play in this game. I just stayed up, I cheered on my team … I just stayed positive and it ended up good."
Webster scored nine points. Point guard Taylor Dunham, who is committed to Navy, scored five points and Porter had four.
Cronin had 12 points for Oakton.
Mount Vernon will open National District play against Hayfield at 5:45 p.m. on Tuesday, Dec. 11.